Prerequisites

Runs On
| | | | | | |
| --- | --- | --- | --- | --- | --- |
|   | SAP GUI | Android | iOS | WM | Web |
| Direct Connect |   |   |   |   |   |
| Liquid UI Server Connect | |   |   |   |   |
Purpose
With LiquidUI, we can perform an SAP process through a single button by creating our own process.

User Interface
Log into SAP and navigate to IW21. Click on the pushbutton located on the Toolbar.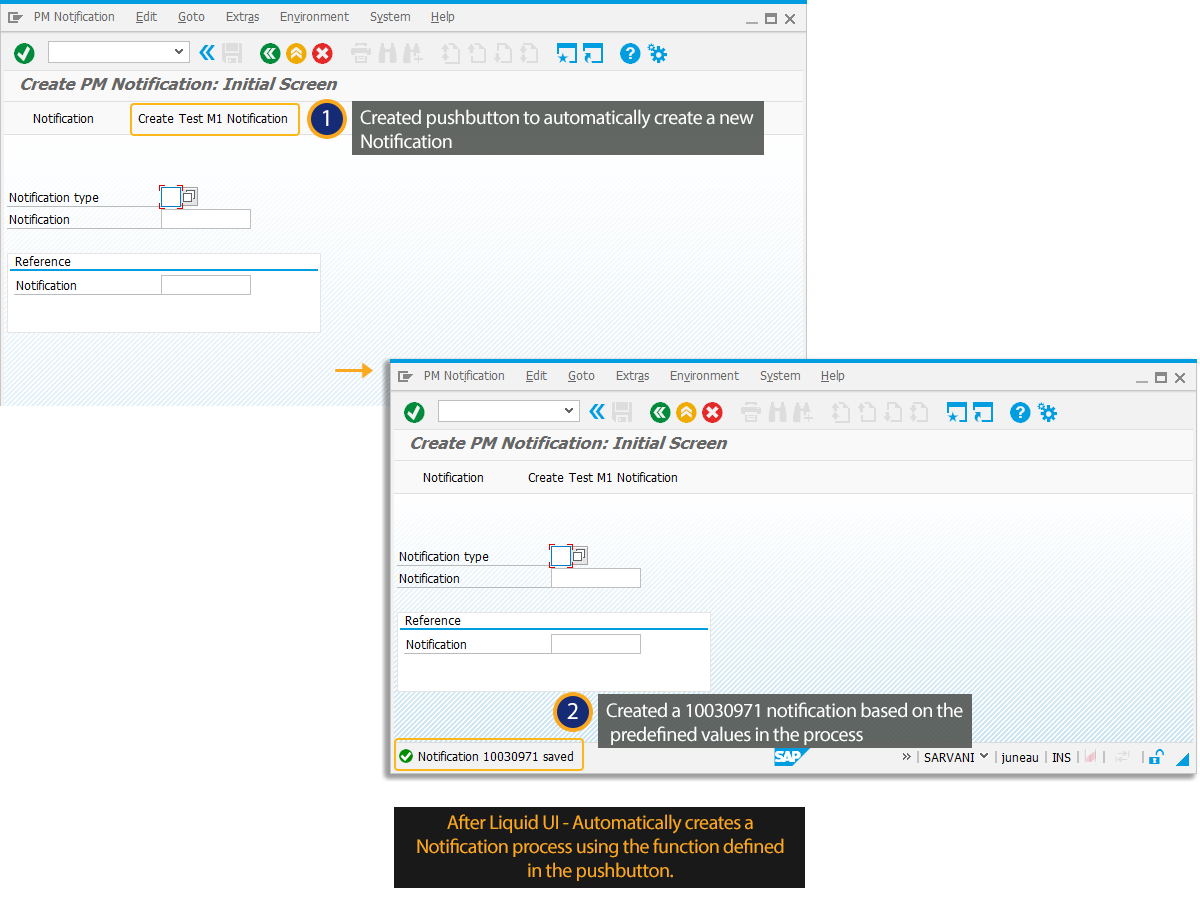 The function will place M1 in the Notification type.
Next, the process will navigate to the second screen to fill values in the required fields, and then save to create the notification.

Liquid UI Script
//SAPLIQS0.E0100.sjs
// Author: Synactive, Inc. [1065 E. Hillsdale Blvd, Foster City, CA, 94404, USA]
// Email: support@guixt.com; sales@guixt.com; 
// Contact: 650.341.3310
// Version: 1.0.0.0
//////////////////////////////////////////////////////////////////////////////////////////////////////////////

// Have the process run with a click of a button!
pushbutton([TOOLBAR], "Create Test M1 Notification", {"process":iw21CreateNotif});

function iw21CreateNotif(){
        println("in this function");
        // Enter M1 as Notification Type
        set("F[Notification type]", "M1");
        enter();
    // this is the second screen of IW21
    onscreen 'SAPLIQS0.7200'
        // this field is for the notification description
        set("F[VIQMEL-QMTXT]", "test");
        set("F[Functional loc.]", "21-B02");
        set("F[Equipment]", "TEQ-21");
        // "/11" is the Save command
        enter('/11');
}