Prerequisites

Runs On
| | | | | | |
| --- | --- | --- | --- | --- | --- |
|   | SAP GUI | Android | iOS | WM | Web |
| Direct Connect |   |   |   |   |   |
| Liquid UI Server Connect | | | | | |

Purpose
This example shows how to create a Liquid UI column in a SAP Table.

User Interface
Log into SAP and navigate to VA03.
Enter a sales order and continue to the next screen.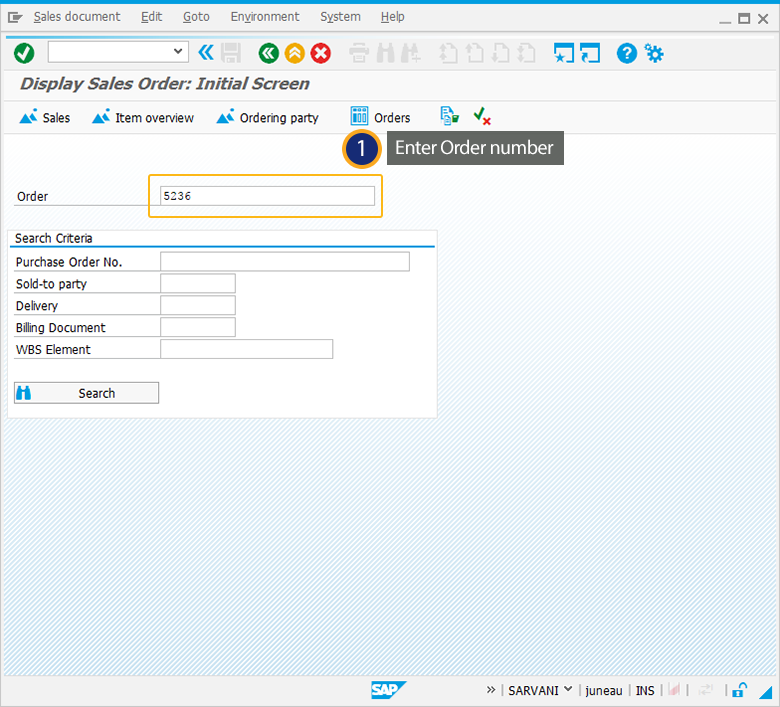 The table will display a Liquid UI column labeled Volume, displaying the volume for each item.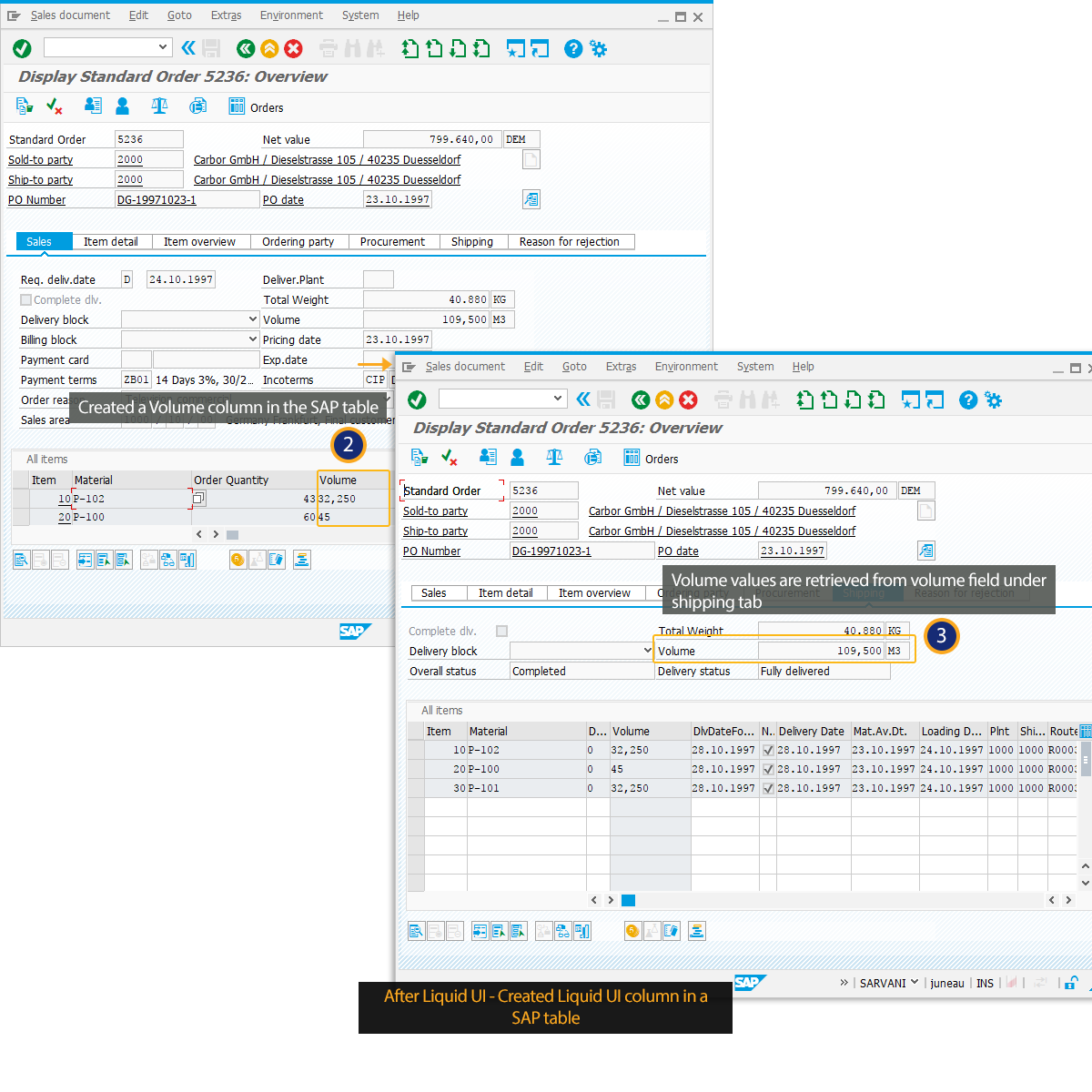 The volume values are pulled from each item's data in the Shipping Tab.
Liquid UI Script
//SAPMV45A.E4001.sjs
if(_transaction == "VA03")
{
 onUIEvents["

/n*

"] = {

"process":va03ClearVar

};
 column("

Volume

", {

"table":"All items","size":12,"name":"z_volume","position":4,"readonly":true

});
     if(z_run_function == undefined)
{
     z_run_function = true;
  enter("

?

",{

"process":va03FetchVolume

});
  }
}
// This function is responsible for retrieving the Volume of each item
function va03FetchVolume(){
    onscreen 'SAPMV45A.4001'
       // Table Scroll through each Item
        absrow = 1;
        relrow = 1;
 // Fetch the table attributes
  gettableattribute("

T[All items]

",{

"firstvisiblerow":"FVisRow","lastvisiblerow":"LVisRow","lastrow":"LastRow"

});
new_screen:;
// Scroll to the absolute row
 enter("

/ScrollToLine=&V[absrow]

", {

"table":"T[All items]"

});
 onscreen 'SAPMV45A.4001'
 // Refetch table attributes, in case they might of changed
 gettableattribute("

T[All items]

",{

"firstvisiblerow":"FVisRow","lastvisiblerow":"LVisRow","lastrow":"LastRow"

});
 // Reset the relevant row
 relrow = 1; // reset the relative row with a new screen
new_row:;
        if(absrow>LVisRow)
{
     // end of the screen?
        goto new_screen;
        }
        if(absrow>LastRow)
{
            // end of the table?
            goto end_of_table;
        }
        // Set the cursor on the row
        setcursor("

cell[All items,1,&V[relrow]]

");
        // Go into Item Data
        enter("

=ITEM

");
        onscreen 'SAPMV45A.4003'
        // Navigate to the second tab
        enter("

=T\\03

");
        onscreen 'SAPMV45A.4003'
        // Set the Volume to our Liquid UI Column
        set("

V[temp]

","

&F[Volume]

");
        set("

V[z_volume.&V[absrow]]

",

temp.trim()

);
        // Go back to Overview Screen
        enter("

/3

");
        onscreen 'SAPMV45A.4001'
        // Increment out counters
        absrow++;
        relrow++;
        goto new_row;
        end_of_table:;
        // Scroll back to the top of the table
        enter("

/ScrollToLine=1

",{

"table":"T[All items]"

});
}
// This function is responsible for clearing all the variables
function va03ClearVar()
{
    // set the column values to a blank string
    set("

V[z_*]

","");
    // set the function flag to undefined
    z_run_function = void 0;
}
// This is a trim function for strings that will return the original string with 
String.prototype.trim = function() 
{
    return this.replace(/^\s+|\s+$/g,"");
}