The Liquid UI client resides on the user's iPad, iPhone or iPod Touch. For a full implementation, including the ability to present customized screens and transactions, the client communicates with your SAP ERP system via the Liquid UI Server. The client is configured via app and the server configuration files are housed on the Liquid UI Server, while the scripts that deliver the customized device screens and processes can be housed in any of the following locations:
Liquid UI Server
Network Share
SAP Web Repository
Liquid UI connects your hand-held devices to the server using wireless, but the connection between the Liquid UI Server and the SAP ERP system is a wired Ethernet connection. Both the Liquid UI Server and the SAP ERP system itself will reside behind the customer's corporate firewall. The Liquid UI architecture is as follows: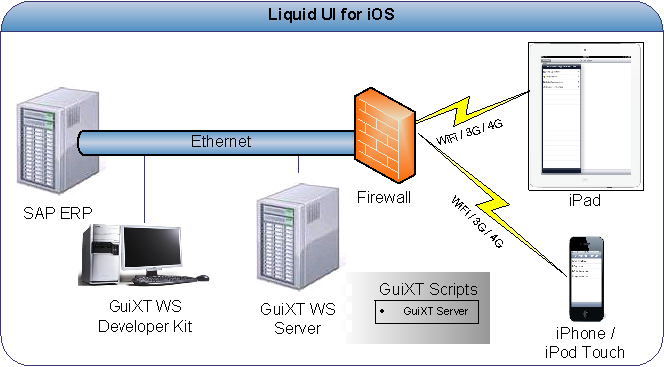 Note:
The WS Developer ToolKit referenced in the architecture diagram above is used to create custom SAP screens and transactions. This component is covered in Liquid UI Designer, Liquid UI  Workbench and Liquid UI Debugger. Please see the
Liquid UI Server
documentation for more information on the Server's features and functionality.