Workbench requires a valid license in order for the full functionality to be available. It is possible to initiate and complete recordings in Workbench without a license, but you will be unable to save recordings or to generate scripts based on the included templates. The license format for the Workbench license is as shown below.
X-XXXX-XXXXX-X-XXXX-XXXXX-XXXXX
Synactive currently offer two types of licenses for Workbench, as follows:
Evaluation license: Offered to enable prospective customers to evaluate Workbench. Usually offered for a term of fifteen days.
Production license: The license for paid customers. Usually a renewable one-year term but can be offered according to the terms of the signed contract.
If Workbench cannot find a valid license, it will display the following message: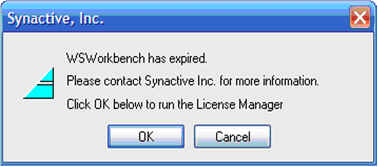 If you see this massager, you must obtain a valid license before you can continue to use the Workbench. You can obtain licenses by doing either of the following:
Call Synactive during normal business hours at (650) 341-3310
Email Synactive at rfi@guixt.com.
You will receive a new license approximately two days after you pay your license fee.