The Help menu is visible and active regardless of whether any GVL file is selected. This menu appears as shown below.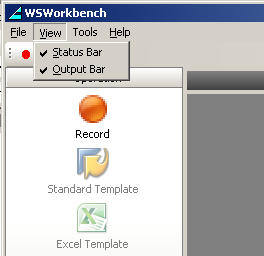 There are two options contained in the View menu. These are as follows.
About WSWorkbench
User Guide
These are explained as follows.
About WSWorkbench
The About WSWorkbench option will display a dialog that contains the version and copyright information for Workbench. A link to the GuiXT website is also included in the About dialog. The About dialog appears as shown below.

User Guide
A PDF version of this User Guide is installed with WS Workbench. Click this option to open the PDF on your local system. The PDF contains additional information on the Workbench as well as containing information that is intended to help you write your own custom templates.