Liquid UI for iOS enables companies to extend SAP ERP mobile connectivity to iPad, iPhone, and iPod touch, as well as leverages device-specific features such as the camera for barcode scanning. Synactive´s simple scripting platform lets companies customize the SAP ERP user interface for iOS devices by consolidating and simplifying SAP Dynpros, tabs, and transactions without complicated programming or modifying the backend configuration, security, and business logic.
Liquid UI provides a way for screens to consume a web service. For example, provide turn-by-turn instructions to help users get to a certain address, or translate a German language UI to English before the data is posted to SAP. In these examples, Google web services were consumed using simple scripting and Curl. You can also include hyperlinks in the UI to launch Safari to open up any web page.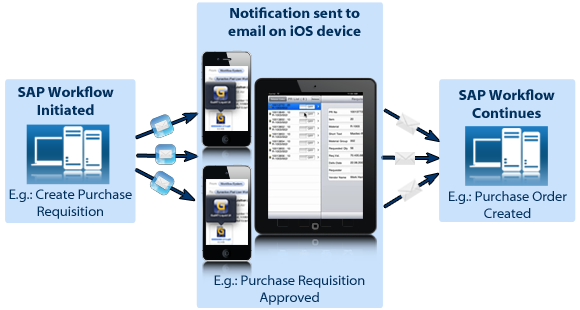 Our Workflow Integration extends SAP Workflow to Apple email client for quick workflow on the road. Liquid UI brings you to the transaction itself, and you can complete your work right from your iOS device. Compatible with all versions of SAP ERP up to Kernel 7.20; your workflow can go from the Desktop to a device and back to the Desktop seamlessly.
No re-entering of screen data if connection is lost, data is secure. Robust connections maintain screen data even if the network signal drops intermittently. Secure connections provide a completely secure channel for data over the network.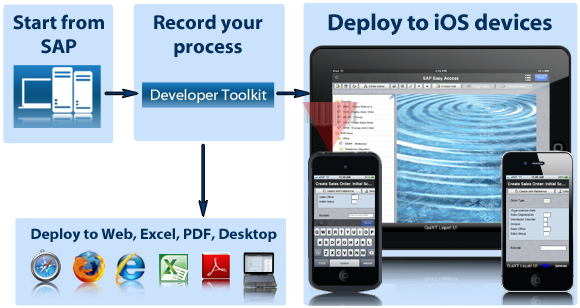 Mouse over to learn more
You can morph the UI from SAP GUI to iOS using recording technology in the Developer Toolkit to record a user's process once, then deploy across desktop and mobile environments. The Liquid UI provides the ability to "liquefy" the UI to optimize business processes for smaller screens.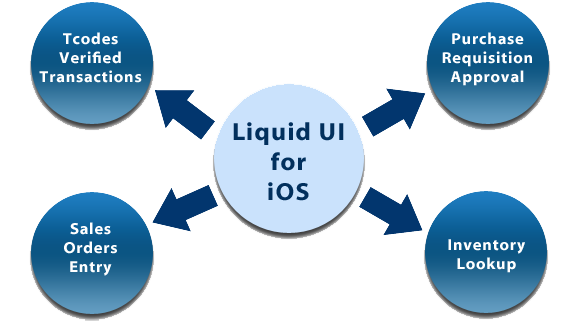 Liquid UI for iOS empowers and mobilizes your workforce, wherever and wherever they are. You can deploy transactions with business value immediately, and add more business processes as time goes by. With Liquid UI, you can pick and choose those transactions and get your users up and running without enormous development costs.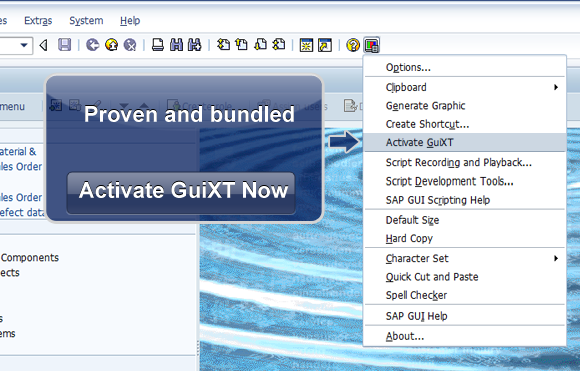 Liquid UI is bundled by SAP, certified by SAP and Licensed by SAP. Join thousands of companies already running Liquid UI to leverage their SAP system. Liquid UI Platform is deployed to empower your workforce, on iOS, Desktop or Web; and even completely untethered without any network connectivity, our patented Offline solution.