Streamline your SAP business processes for faster implementation, better performance, and reliable operation
Liquid UI for SAP GUI powered by the Liquid UI Platform has revolutionized SAP businesses by enabling enterprises to simplify business processes, eliminate fields, consolidate screens, tabs and transactions to achieve a holistic solution. Expand this holistic solution across your entire SAP ERP system including other components such as SCM, PLM, Microsoft Excel, Adobe PDF, Salesforce, and Oracle to maintain continuity, accelerating business growth and lowering operational costs. Our solution facilitates faster return on your ERP investment, with dramatic increase in productivity and drastic cuts in SAP training time.
With the right systems and processes in place, your organization can achieve its business goals and run with greater confidence by relying on data insights, not gut feelings. Liquid UI for SAP GUI is client runtime software that streamlines and simplifies the SAPGUI and NWBC user experience with improved speed, scalability and agility. The users can start from an existing SAP transaction and use our developer toolkit to record the transaction and customize it to fit their business needs. Because Liquid UI includes GuiXT technology that is native to SAP, all your backend configuration, security, authorizations, and business logic remain intact. Role-specific dashboards and simplified transaction screens eliminates confusion and potential errors, keeping users and business on the fast track, driving your business forward.
Benefits
Increase Business Efficiencies, Productivity and Data Integrity
Liquid UI for SAP GUI allows fast and flexible automation to aggregate screens, tabs and transactions and, decreasing data entry, eliminating user errors, and increasing overall business performance.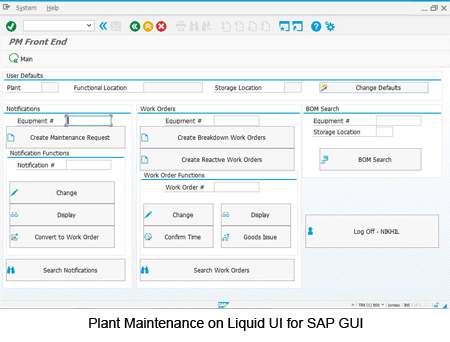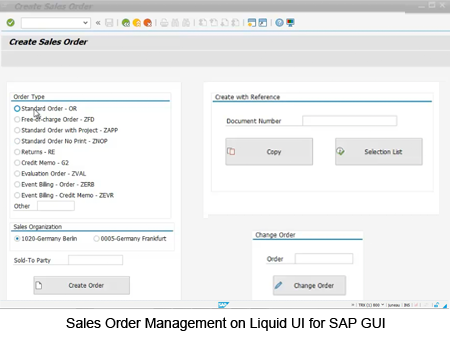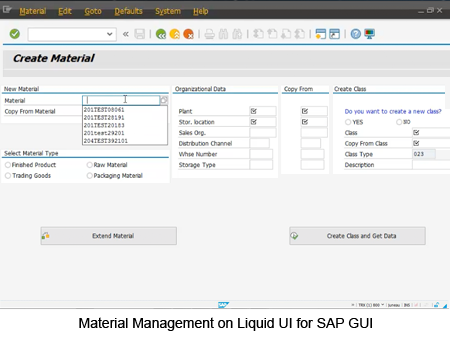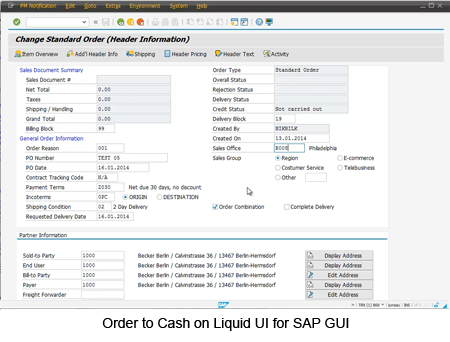 Customizable and Modernized Screens
Improve screen layout by rearranging the order of items, consolidating screen tabs and combining multiple transactions into one seamless business process to automate your SAP environment. Themes can be applied to the rendered SAP screens for an enriched view of SAP transactions which helps to increase visitor response.
Speed Up ROI and Reduce SAP Related Expenditures
Liquid UI reduces the total cost of ownership and increases your ROI by minimizing risk, time, and dedicated resources.
Comprehensive Data Footprint
Increased usability, ease of navigation and accuracy of data by validating user actions against predefined business logic. Also modify SAP terminology to fit your organization's business terms and acronyms
Start from already existing, but complex SAP and build upon it
The users do not need to start form scratch or use a low level language like ABAP or Java. Start from an existing SAP transaction and use our developer toolkit to customize it to fit your business needs.
Enterprise-grade stability
Liquid UI for SAP GUI is built on legendary GuiXT technology as part of the Liquid UI Platform making it stable, upgradeable, deployable and supportable.
Comprehensive HTML Integration
Users can load data from external programs, make RFC class and interact with an external Internet site to load data into SAP. Users can also embed HTML and RTF or OData controls on the SAP GUI screens.
---