The Main Menu in Liquid UI is the main area for personalizing Liquid UI on your iOS device. To view the Main Menu, you can either drag from the right side of the screen you can tap on the menu icon to view the options. The Main Menu contains a number of settings for your Liquid UI client. These are divided into following sections:

App Settings
In this section, you can access to Configure Linea Scanner, Restore Settings from iCloud, and Backup settings to iCloud.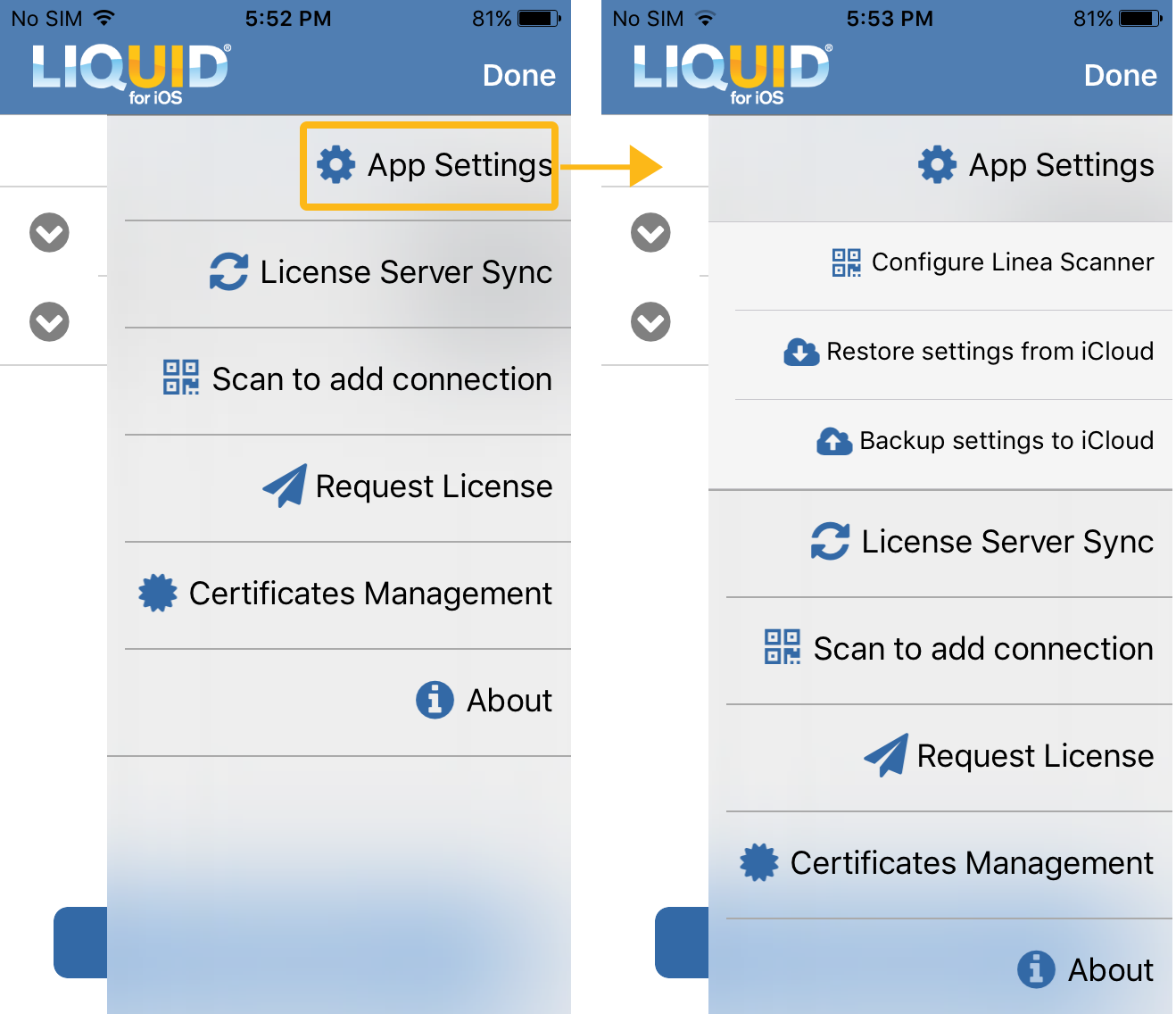 Configure Linea Scanner is about Barcode Scanner configuration. Liquid UI for iOS supports barcode scanning and it enables iOS users to populate any SAP field with a single click.
Restore settings from iCloud enables iOS users to restore the SAP Connections from iCloud.
Backup settings to iCloud provides you to maintain a backup of SAP Connections on iCloud.

License Server Sync
Tap on License Server Sync to update your SAP connection list on Server Connections. You can see this Sync option after installing valid license on your Android device. It only updates the connections that are associated with "Portal / Enterprise" License".
To know more about adding SAP connections and Synchronizing them on Liquid UI for iOS, click here.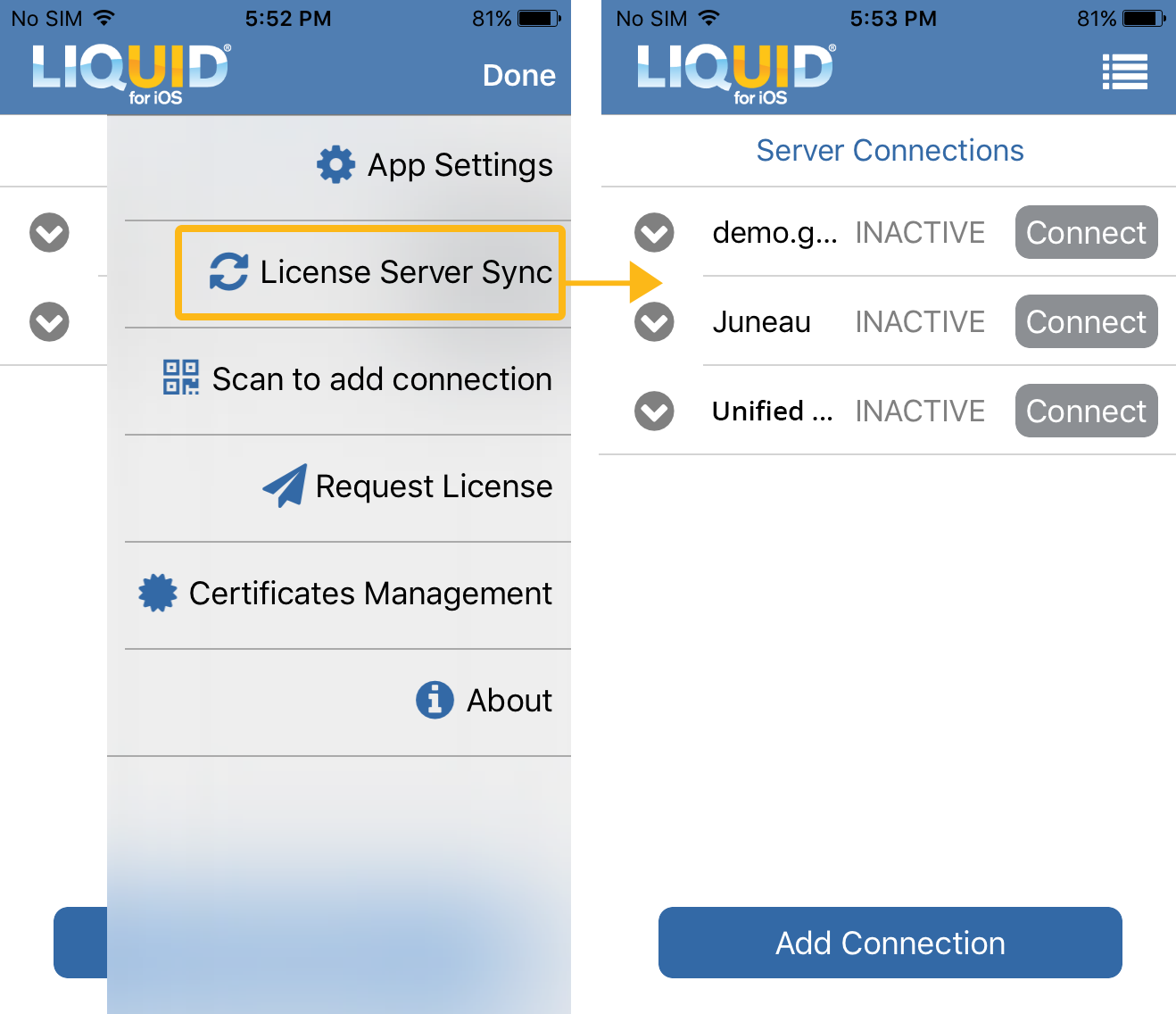 Scan to add connection
The user can only use a barcode to add connection using Scan to add connection. This barcode is generated by Synactive Connection Transmitter application. Once the barcode is generated, align it within the frame to scan and add a new SAP connection.

Request License
The user can request license from the Liquid UI App. Tap on Request License, you will be navigated to License Assistance page. The user can select any of the following options to access the functionality of the Liquid UI App.
Purchase Through In-App
Make a Request
Portal License Manager
Tweet for Free Trial
Click here to know about Request License.

About
The About option has information about Liquid UI App and Licensing. The information is shown below:
Copyright contains copyright information for Liquid UI.
Version contains the version number for the currently installed release of your Liquid UI client.
URL of the Synactive's website.
Patent numbers currently held by Synactive.
Support information like Telephone and E-mail.
Registered to, lists the name of the registered owner.
License will specify the type of license and the license expiration days and time.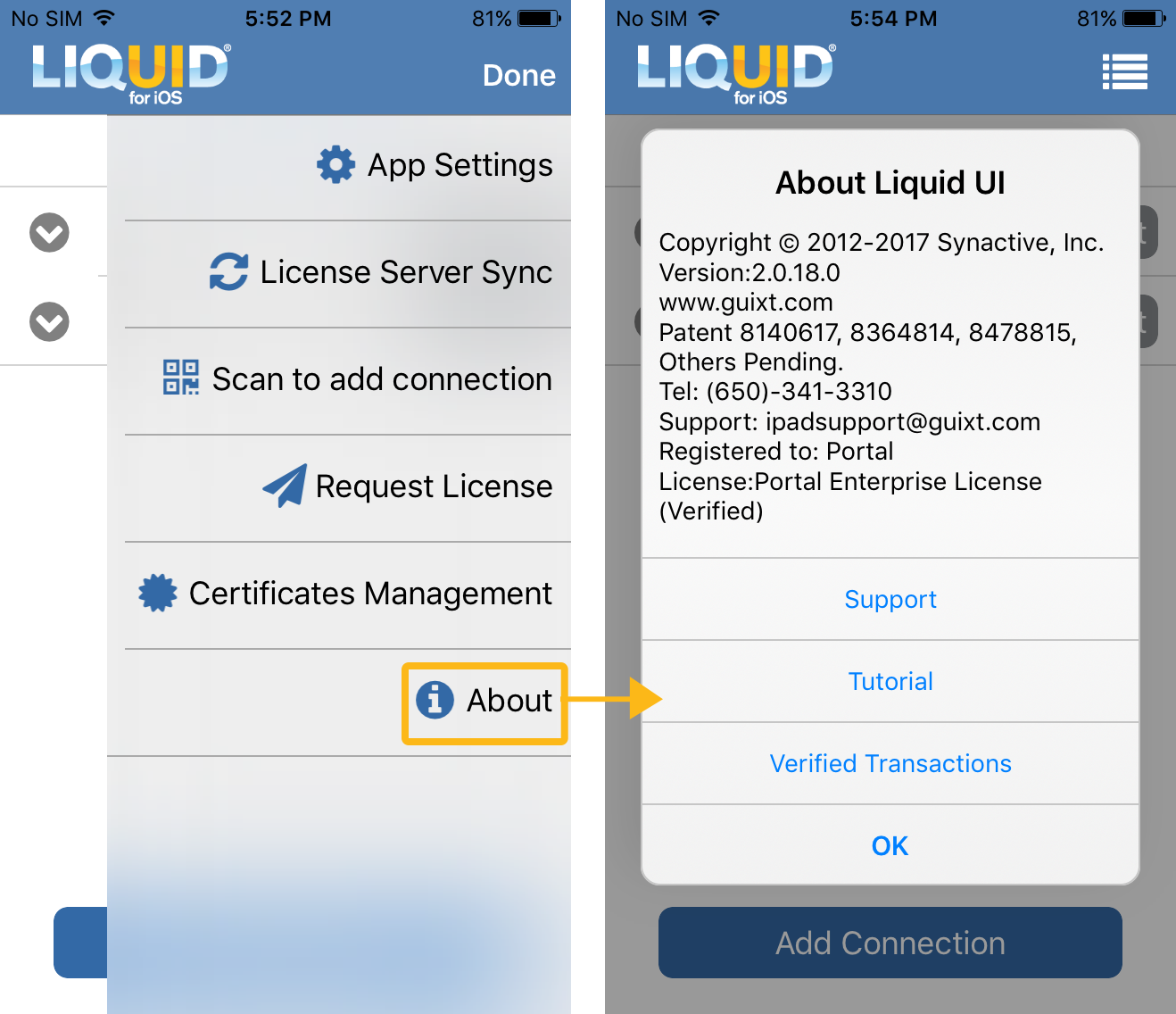 The About option also inlcudes; Support to send queries, Tutorial to view iOS configuration settings, and Verified Transactions that are supported with a direct connection to SAP in the initial release of Liquid UI App.